Leading cinematographers are calling for a new
Oscars
category to distinguish between films shot using traditional methods and those using often-invisible digital effects.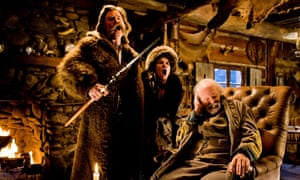 In an interview with the Hollywood Reporter
, The Hateful Eight's Robert Richardson complained the ubiquity of visual effects in modern cinema meant that cinematographers employing old-school techniques were no longer operating on a "level playing field". Richardson, who is nominated for the 2016 best cinematography Oscar for his work on Quentin Tarantino's blood-spattered chamber piece, used an entirely non-digital process to shoot the film. By contrast, the winner of the cinematography prize in 2013, Life of Pi's Claudio Miranda, used extensive digital effects to complete the look of the ocean-set fantasy.
"It's just not a level playing field currently," said Richardson. "A great deal of what viewers are looking at is not in fact shot by the cinematographer, but is created by artists on a computer and by the director directing them and the cinematographer that's working hand in hand with them."
But the three-time Oscar winner – winner of the best cinematography prize for JFK, The Aviator and Hugo – admitted the Academy of Motion Picture Arts and Sciences might struggle to spot digital effects in some features. "The dilemma is, how do you define it? It's extremely difficult to say what percentage is a VFX film versus 'classically' photographed," he added.
Continuing the theme,
Carol
cinematographer Ed Lachman told the Hollywood Reporter: "It's becoming harder and harder to make that distinction between what is original photography and what is post-digital effects and photography. They can create lighting. They can do everything in post if you have the time and money." Added Lachman, also a 2016 Oscar nominee: "I don't think there's an easy answer. Every film is so different."
Prior to 1967, the Academy handed out two prizes for cinematography – one for black and white movies, one for those filmed in colour – so there is a precedent for splitting the award. The prestigious American Society of Cinematographers is said to have considered adding a second prize for films shot using digital effects, but not everyone is convinced. Oscar-winner John Seale, nominated this year for Mad Max: Fury Road, said: "I don't think we need another category. I think cinematography should encompass the entire film-making process, from negative to post, as a single unit."
This year's Oscars take place at the Dolby theatre in Los Angeles on 28 February. The Revenant's Emmanuel Lubezki is the bookmakers' favourite to take his third best cinematography prize in a row (he also won in 2014 for Gravity and in 2015 for Birdman) for his work on the harrowing Alejandro González Iñárritu western