It has taken a half a decade for Daniel Radcliffe to escape the ghost of Harry Potter – and he's done it by playing a dead man.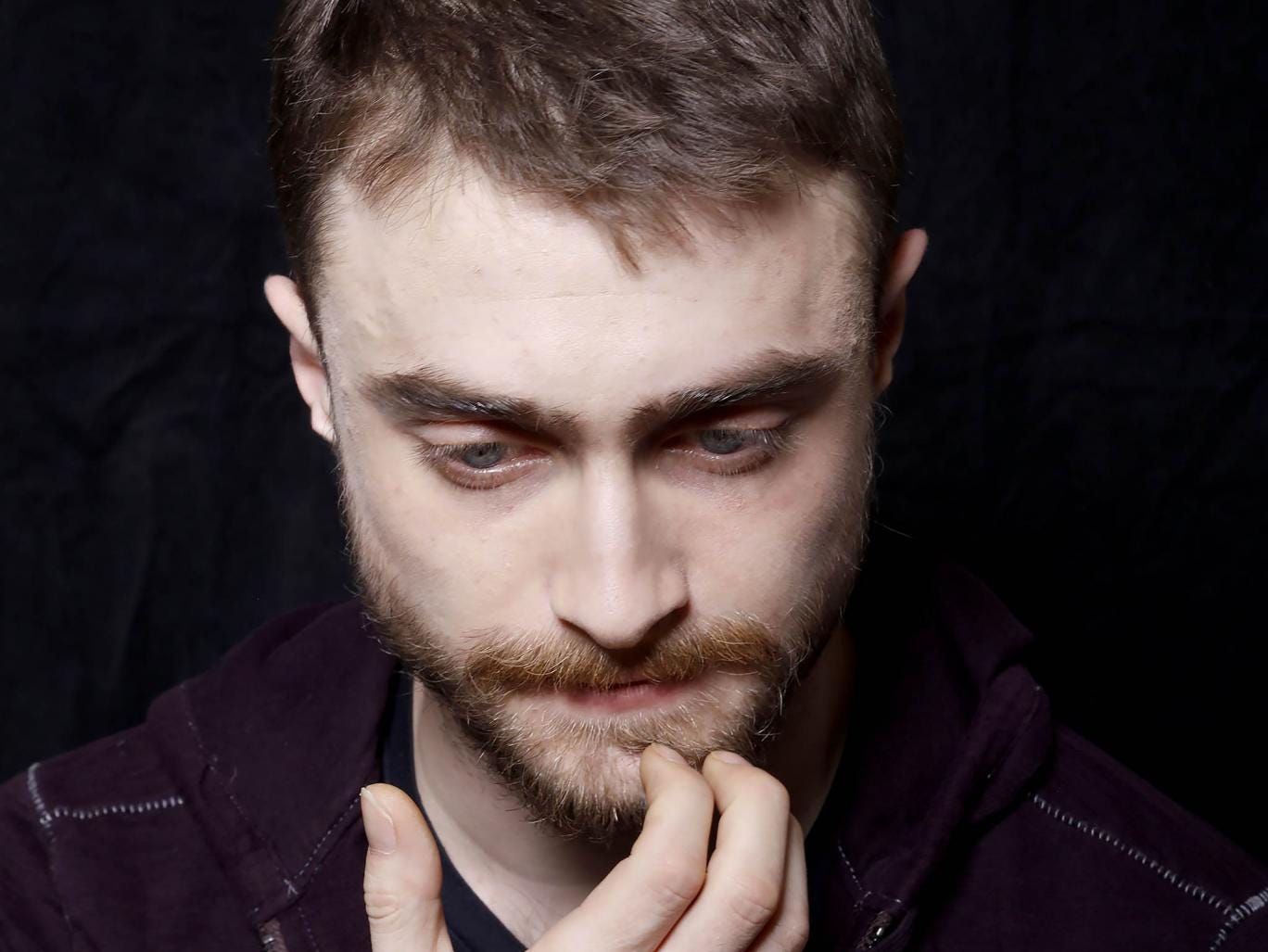 A corpse, to be precise, which farts continually, has uncontrollable erections, and allows its co-star, War and Peace's Paul Dano, to ride him over the ocean like a dead human jet ski.
This really, truly happens in Swiss Army Man, the experimental film debut of music video directors Dan Kwan and Daniel Scheinert. Hank (Paul Dano) appears to find himself on a desert island shore and is about to end it all, when Daniel Radcliffe's body is washed up.
A love story of sorts ensues, in between Radcliffe's out-of-control bodily functions, where they muse on love and friendship, with Radcliffe's character Manny slightly hampered by rigor mortis setting in.
No wonder that its first showing at the Sundance Film Festival in Utah prompted headlines such as, "Is this the weirdest film to ever show at Sundance?" and, "Daniel Radcliffe's farting corpse prompts walk-outs" – apparently in reference to the amount of people leaving the cinema during the screening.
Radcliffe, however, who flew in from New York ahead of the blizzards, doesn't look troubled. Dressed pre-emptively for Utah in a button-down checked shirt, jeans and boots, he probably also foresaw the headlines, because he says: "Well, I think the movie is a divisive one. You'll either love it or hate it – and that's fine, because I just found it a joyous experience."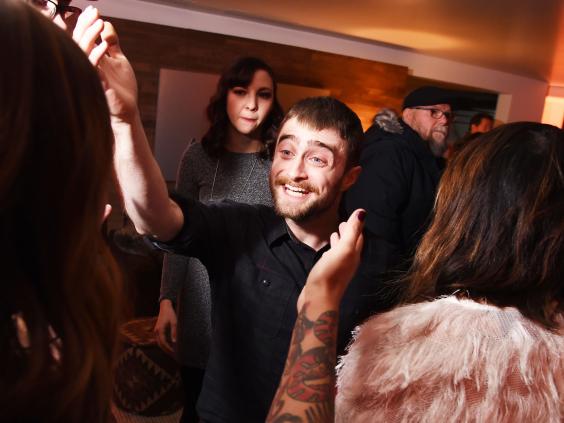 But is Radcliffe really participating in arthouse Beavis and Butthead? The 26-year-old cheerfully replies that he's known in the industry "for liking to do weird stuff, which is why the script was sent to me I guess".
However, his post-Potter portfolio isn't that eclectic – it includes playing Allen Ginsberg in Beat Poet thriller Kill Your Darlings, Igor in Paul McGuigan's Victor Frankenstein, as well as resurrecting Hammer horror for The Woman in Black.
But Radcliffe's naked turn for stage play Equus at the height ofHarry Potter fame has given him a reputation as a risk-taker, and he continues to take advantage of the financial freedom (estimated at around £60m) that Potter has given him.
"It's just projects like this one that give me so much joy," he enthuses, "where I turn up on set and really don't know what on Earth is going to happen from one day to the next. Obviously, I knew I was playing a dead person, but there's a lot more to it than that. I don't want to say too much about the plot."
Nor does he, but suffice it to say that Leonardo DiCaprio isn't the only Hollywood star to encounter a bear on screen in 2016.
But being dragged around the woods by Paul Dano, now one of his best friends in real life, in low-budget features isn't the pinnacle of Radcliffe's ambition. "I would absolutely, definitely do a blockbuster again," he says enthusiastically. "Of course I would! It just has to be a good one, a great script.
"I don't know where people get this idea from that big movies can't be as much of a challenge as an independent film. They can be really hard work. Harry Potter just got better and better as a franchise and I am still so proud of it. I would definitely do big-budget films again, just give me one worth doing."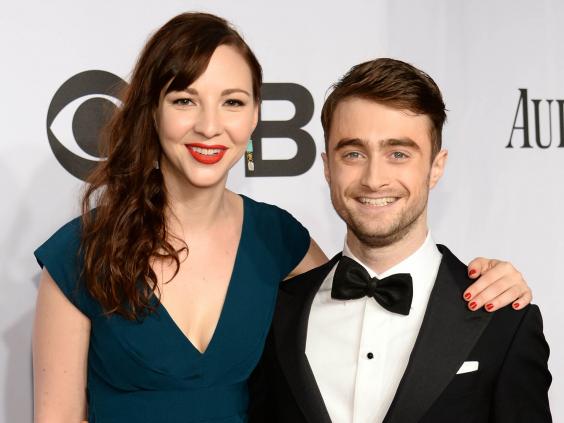 Indeed, it has recently been suggested that Radcliffe, despite his slightness, could make a good Wolverine, after he posed for Vanity Fair Italia recently, wearing a six pack and a small scowl. He looks a little sheepish for a moment, and then explains: " I had done all this work training for a movie that didn't happen in the end. I looked at myself in the mirror and thought, 'you are never going to look this good again'. So I decided to do the shoot, and I'm glad I did."
So must be his girlfriend of four years, actress Erin Darke, although he says she still ribbed him for winning last year's Rear of the Year. They met on the set of Kill Your Darlings, but Darke has also shared screen time – and a kiss – with Paul Dano in last year's Beach Boys retrospective Love and Mercy.
Radcliffe pursued Dano's girlfriend Zoe Kazan in 2013's What If, and Dano and Radcliffe share an underwater smooch in theirSwiss Army Man bromance. "The situation is very confusing," he admits. "Sooner or later we'll all have kissed each other. On screen, anyway."
He and Darke seem happy living together in New York, where, between films, Radcliffe says he gets to indulge in his favourite things – "reading books and looking at stuff – at buildings". He feels, he says, like a real New Yorker.
Recently tipped to play Lee Atwater in John Krokidas's comedyYoung Americans, about a young Karl Rove (George W Bush's former senior advisor), the actor now says "the film may not happen".
However, he has always had a keen interest in American politics, because, he maintains, "they are so much crazier than British politics. They completely fascinate me. They are so polarised in their beliefs in the US. I don't think that even in the BNP, even in the most right-wing party you could imagine in Britain, that you would have 'pro-life' candidates standing.
There are so many divisions between the candidates over here. It's mesmerising to watch it because to a certain extent, I can stand back." Can he stand back from the row over diversity that is engulfing the Academy Awards?
"It's just really good that this conversation is taking place, because it needs to," he replies, having learned diplomacy growing up as Harry Potter. "The change has to come from the industry itself, though. Clearly not enough films are being made or written that will lead to nominations for the Academy to consider."
But on the recent death of Alan Rickman he is certainly prepared to speak from the heart. Radcliffe released a tribute to his former co-star and mentor, saying that he would carry the lessons Rickman taught him forever, adding that "Alan was extremely kind, generous, self-deprecating and funny".
"I just feel that it needed to be said," Radcliffe said. "He was just such an important man to me, not just as an actor. He came to see everything I ever did, he was an incredible man and friend. It's just a huge loss to all of us."
Self-deprecating and funny – those words could also be applied to the thoroughly decent Daniel Radcliffe, whose own sense of humour will surely see him through the hysteria and the headlines surrounding his latest role.
Swiss Army Man is already known locally as "the Dan Radcliffe farting-corpse movie". If anyone can see the magic in that, it's the boy who lived through Harry Potter